JAFRIKA
Click here for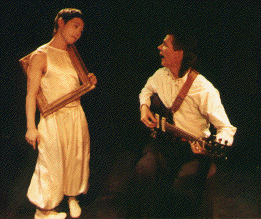 What is JAFRIKA?

Take the first two letters of Japan, the middle letters of Africa and the last few letters of America and you come up with "Jafrika" -- a name that not only represents the differing cultural backgrounds of its three members, but also suggests a melding of three diverse creative talents. Jafrika is:

Dancer/Choreographer: Ricki Harada
"...stunning evocative, graceful and original..."
Denver Westword, Aug 1995
"...natural grace and androgenous beauty... emotional and moving choreographic self-exploration..."
Rocky Mountain News, Nov. 1994
"...everything Harada does through the evening is mysterious, inventive and exquisitely disciplined... "
Denver Westword, Aug. 1995
"...The stunning work of Japanese born dancer Harada is the heart and soul of JAFRIKA..."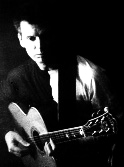 Musician/Composer: TingZen
"...TingZen's melodies are lovely, his one man-band approach to the music sophisticated and his presence sure and strong..."
Denver Westword, Aug. 1995

"...TingZen...who , with the help of computers, can sound like the entire London Philharmonic... he shows skill at improvisational fusion jazz..."
Rocky Mountain News Nov. 1994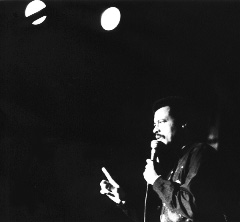 Performance Poet: SETH
"...one of Denver's more popular performance poets..."
"...original, moving and insightful..."
Rocky Mountain News Nov. 1994
"...Seth has a leveling gaze when he speaks his poetry that harbors power and intelligence..."
Denver Westword, Aug. 1995


JAFRIKA

The critically acclaimed multi-ethnic, multi-media, multidimensional trio interweaving live music, evocative dance and poignant poetry, JAFRIKA has been dazzling audiences with a unique blend of power and passion. Featured in the 1996 Denver Performance Arts Festival, JAFRIKA has been called one of the best alternative art acts Denver has to offer.
How is your work innovative or unique?
Jafrika is a performance art trio melding music, dance & poetry into an intergrated whole. Although the intermingling of different art medium is not in and of itself unique, the interplay with which Jafrika meld the three medium is noteworthy. Music & dance have always been performance allies. Poetry, if mixed with other medium, has usually been peripheral. In Jafrika, each medium is given equal weight.
What is further unique & innovative about Jafrika is the diversity & range of its members. See below.
TinZen
Founding member TingZen (Chris Macor) is a midi-musician, ie. a composer and performer able through modern computer technology to accompany himself on guitar, keyboards, bass, drums and backing vocals. A musician for 27 years, TingZen has had classical and jazz training before earning his Bachelor of Arts in Interdisciplinary Studies at the Naropa Institute. Long dedicated to multi-media performance, TingZen has performed with numerous ensembles since 1983 as a musician, actor and/or dancer.
Ricki Harada
Born in Southern Japan, Ricki Harada began his dance career in 1983 as a funky jazz dancer in a professional troupe. He has toured Japan extensively while studying ballet, mime and traditional Japanese dance all of which he incorporates in his unique style -- a style characterized by extreme fluidity, quickness, naturalness and detail.
SETH
A founding member of Denver's most industrious performance poetry troupe, the Open Rangers, SETH began performing poetry in 1989. Predominately a writer of short stories and poetry, SETH has also had extensive experience as a radio theater actor and as a percussionist for numerous musical ensembles. Incorporating these and the talents of other musicians, actors and dancers, SETH has carved a niche for himself as one of Denver's most visible performance poets.










There is passion here...













JAFRIKA'S SCHOOL ASSEMBLY AND LIBRARY PROGRAM


JAFRIKA masterfully led the students through the processes of active investigation and full participation.
The students were so totally engrossed in creating the jungle scene that they are still commenting about that experience; wishing JAFRIKA would come back!
Marva Baldwin, Music Specialist, Marshdale Elementary School
Jafrika came into our school for a performance art presentation. We provided the children, Jafrika provided everything needed for a cultural multimedia production. In just 3 hours, the children were reading poetry, creating plays, dancing and making music.
Patrice K. Plambeck, Director, Montessori At DTC


JAFRIKA'S SCHOOL ASSEMBLY ON MULTICULTURALISM
Jafrika is offering a new school assembly program which fits in with national standards on Multiculturalism. The program develops awareness of different cultures and tolerance for the diversity found among the people of the world.
JAFRIKA LIBRARY PROGRAM
Jafrika also offers a program at branch libraries. Two basic themes are addressed. Multiculturalism and Jungle Animals. Because Jafrika is intrinsically multicultural we have the opportunity to present African-like drum songs and a Japanese ritual piece. In addition we perform a song about the seven continents and individual songs about each continent in which children get to participate in traditional dance.
For more information
See more about Jafrika or other performance? Visit www.electracity.com/knn
303-433-7163 (Chris Macor), E-Mail: tingzen@juno.com
Click here for Jafrika's Schedule
E-Mail to thewebmaster:

jafrika@interpacificnet.com
ęCopyright 1997, 1996 Interpacific Network Corporation. All Rights Reserved Worldwide On Any Copyrightable Materials.